Pilfood Direct Anti Hair Loss Lotion
---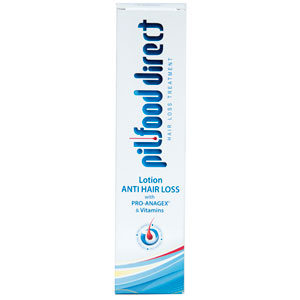 Pilfood Direct
Anti Hair Loss Lotion
125ml spray
£35.99
Sorry, out of stock
(end of August)
Catalog ref: PI-005
Key Info
Hair Loss Treatment
With Pro-Anagex & Vitamins
Does not make hair greasy and dries quickly.
Description
Specially formulated as an anti hair loss treatment for daily use.
With Pro-Anegex and vitamins E, C, B3, B5 and B6, it acts directly on the scalp toning and slowing down hair loss and promoting the growth of new hair.
It effectively combines the action of stimulating and restructuring hair with ingredients essential for healthy hair.
Benefits
PRO-ANAGEX has scientifically proven efficacy and works in 4 main ways:
- encourages the growth of new hair.
- increases hair density and brings volume to hair.
- slows down hair loss.
- tones the scalp.
- does not make hair greasy and dries quickly
Includes
PRO-ANAGEX - an anti hair loss and capillary revitalising molecule (exclusive to Pilfood Direct).
Free From
No animal ingredients.
No artificial Colourants
no Parabens
No Mineral Oil
To Use
Apply daily 7 sprays of the lotion on dry or wet hair, spread in the areas of greatest hair loss and massage all over until completely absorbed.
Leave to act and dry, do not rinse. Recommended to be used for least 8 weeks.
Ingredients