Organically Epic Conscious Cotton Buds
---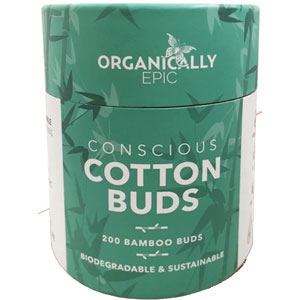 Key Info
Made of bamboo and organic cotton.
Description
Award Winning compostable Conscious Cotton buds are great for all the family, whether you use them for makeup application, cleaning hard to reach nooks and crannies in the home or for arts and crafts. Just because they're reduced waste and plastic-free doesn't mean they can't do the job!
Free From
100% Vegan and approved by PETA.
To Use
An essential for any house hold you can use them for anything from cleaning out your outer ear, putting make up or applying medical ointment.
Materials
FSC Certified Bamboo and organic cotton.