Naturally Fresh Deodorant Crystal Spray Mist - Fragrance Free
---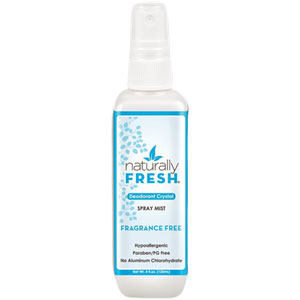 Naturally Fresh
Deodorant Crystal Spray Mist - Fragrance Free
120ml spray
Discountined, no longer available.
Catalog ref: NY-C980
Key Info
Fragrance free.
Hypoallergenic.
Paraben / PG free.
No aluminium chlorohydrate.
Description
The liquid version of the crystal deodorant.
Simply, purified water and pharmaceutical grade mineral salts. Highly recommended by Doctors, Dermatologists, and Allergists.
The spray eliminates odour causing bacteria while providing all-natural, non-staining, hypoallergenic protection.
Includes
Natural mineral salts
Benefits
Natural mineral salts form a protective barrier against odor causing bacteria. Formulated without harmful chemicals, propellants or perfumes - making it safe to you, your family and the environment.
To Use
Spray under arms or on feet for all-natural protection.
Ingredients