Herbals for Health Soothing Gel for joints & muscles
---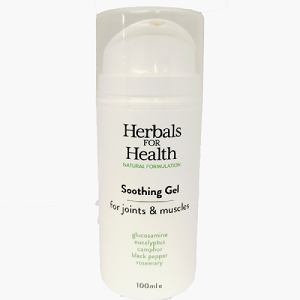 Herbals for Health
Soothing Gel for joints & muscles
100ml pump bottle
£8.00
Add to Basket
Catalog ref: NF-24
Key Info
Natural formulation.
With glucosamine, camphor and eucalyptus.
Description
A soothing and cooling gel formula to help ease the discomfort of painful joints, bruises and sprains.
Cooling Camphor and Eucalyptus are combined with soothing Black Pepper and Rosemary in an easily absorbed, penetrating gel base. With Glucosamine to help support joint health.
Includes
Glucosamine
Eucalyptus leaf oil
Camphor bark oil
Black Pepper seed oil
Rosemary leaf oil
Free From
Artificial Colour & Fragrance, Mineral Oil, Parabens Preservative.
Indications
Suitable for those suffering from minor strains and sprains, arthritis and rheumatism. Suitable for all adult age groups.
To Use
Apply where appropriate and massage gently. Repeat as required.
Caution
Do not use near eyes, on broken skin, if pregnant or breastfeeding. Not suitable for children.
Other
Cruelty free. Made in the UK.
Ingredients
---
Product Comments & Customer Reviews
" I'd like to say that Soothing Gel is fantastic. I've recommended it to several of my friends. It's so lovely. " WW, Warrington
" The Soothing Gel is so good. " VL, London
" I find this a good product " AR, Liskeard
" Absolutely amazing stuff. " RA, Worcester
" The Gel is fabulous, really excellent. The only thing that has worked on the arthritis on my knees and reduced the inflammation. " SD, Bolton
" Soothing Gel is wonderful stuff " RA, Worcester
" It's really good stuff - the soothing gel " EM, Ayr
" Soothing Gel - really good " RA, Worcester
" It's really, really good. " SMN, Eastbourne
" I really think this gel keeps me going and gets my feet moving " BB, Northwood
" Soothing Gel - very good product. " SMN, Eastbourne
" The Soothing Gel you recommended is brilliant. I found it really helpful. " SMN, Eastbourne
" The Soothing Gel is wonderful stuff. Really is. " JW, Newcastle
" I keep recommending this and keep being asked to order more !! " JR, Bexhill-On-Sea
" Good product helps me to sleep. " DB, Plymouth
" Wonderful product " JD, Worcester