Naturally European Milk Luxury Hand & Foot Cream Gift Pack
---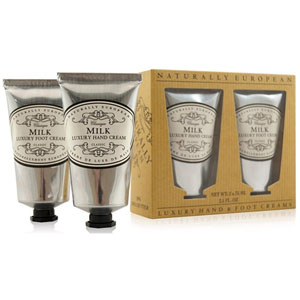 Naturally European
Milk Luxury Hand & Foot Cream Gift Pack
2 x 75ml tubes
£6.50 was £13.00 (save 50%)
Add to Basket
Catalog ref: NE-608
Description
Naturally European intensely moisturising hand cream is paired up with a luxury foot cream in this gift set. Both creams contain essential oils and 20% shea butter to provide ultra conditioning hand and foot therapy.
Fragrance
With our perfected blend of nourishing ingredients and essential oils it melts into hands leaving them silk smooth, hydrated and delicately scented with a Milk fragrance.
Includes
Naturally European Milk Hand & Foot Collection contains hydrolised milk protein, cedarwood oil and patchouli extract.
To Use
Hand Cream – To keep hands soft and smooth, massage a small amount of the rich cream into hands regularly (particularly after washing your hands) to lock in moisture.
Foot Cream – To use: Apply to the feet and gently massage in until absorbed. Use daily and occasionally overnight with moisturising socks for a more intense moisturising experience.
Ingredients