Mother Earth Cloud Nine Night Balm
---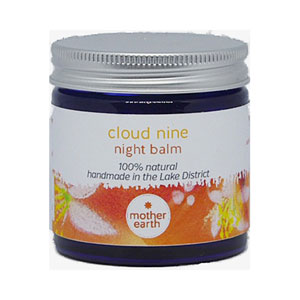 Mother Earth
Cloud Nine Night Balm
60ml glass jar
£13.95
Add to Basket
Catalog ref: MT-CNN
Key Info
A rich butter to balance and hydrate dull, sensitive or blemished skin.
Description
The smooth butter sinks into the skin and will help regulate the oil & moisture content.
Full of vitamin A. which can help to heal blemishes & to give skin a satin texture.
Emotionally uplifting & can help with tension.
Includes
Shea butter.
Almond oil.
Carrot oil.
Beeswax.
Elderflowers.
Yarrow.
St. John's wort oil.
Neroli & tangerine essential oils.
100% natural.
To Use
Use sparingly and gently massage onto face and neck.
Ingredients
Related Products
We recommend using with the Cloud Nine Day Cream.