Martha Hill Cream Rouge - Natural Blush
---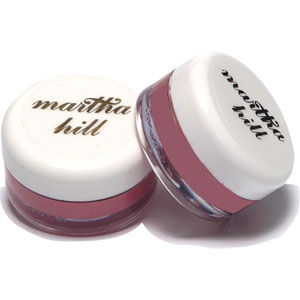 Key Info
For a perfect, natural blush.
The original and the best.
Description
This cream blusher is easy to apply and glides on easily, giving you a natural healthy glow.
As we mature our skin tends to become dull and sallow. This cream rouge will instantly give your skin a 'lift' and bring dull skin to life.
A very soft natural pink, perfect just to add a hint of colour and suitable for all complexions.
To Use
Apply with either your fingertips or a concealer brush along the cheekbone, starting at the centre.
Smile and apply to the 'apples' of the cheeks, blending upwards and out towards the top of the ears.
Ingredients
---
Product Comments & Customer Reviews
" Have used Martha Hill Foundations & Cream Rouge for many years - it is brilliant. " J.P., Cardiff.
" Love this. Simple but very effective, like all of Martha Hill " VR, Skelmersdale
" Martha Hill's Cream Rouge in Natural Blush is by far the best cheek colour of the many different well-known brands that I've tried. It is just the right slightly creamy consistency and leaves the most wonderful, healthy, flattering glow which will have people complimenting you on how well you look! " MES, London
" This cream blusher not only gives you an English rose glow but also gives skin an instant lift, perfect for smoothing over any dull or sallow spots. We also love that it comes in two subtle shades so you can mix and match to suit your colouring. " PRESS, Yours Magazine
" Your Cream Rouge is the best on the market and is so natural. " J.W. NEW, Malden.
" The cream rouge is great, only need a tiny amount x " A.B., Glasgow
" Do keep making your Rouge - can't manage without it. " J.E., Cardiff.