Tea Tree & Aloe Vera Hand & Body Cream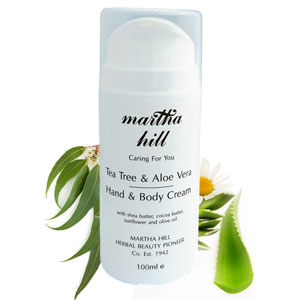 Key Info
With Shea Butter, Cocoa Butter, Sunflower & Olive Oils.
For all skin types.
Description
Natures answer for a soothing and skin loving blend in an easily absorbed, light cream.
Enriched with nourishing shea and cocoa butters, plus moisturising and anti-aging sunflower, olive and gold of pleasure oils helping to protect, nourish and soothe dry, irritated skin on both body and hands leaving it smooth and soft.
Calming and moisturising, aloe vera is recognised for its naturally-soothing properties..
Tea tree oil is known for its antiseptic and anti-fungal benefits helping to reduce infection and irritations.
Benefits
Suitable for all skin types.
Organic ingredients.
Light and easily absorbed.
Includes
Aloe Vera, Tea Tree Oil, Shea Butter, Cocoa Butter, Glycerin, Olive Fruit Oil, Gold of Pleasure Seed Oil, Sunflower Oil, Borage Oil, Blackcurrant Oil,
Free From
Parabens, petrochemicals, colourants, perfume,
To Use
Apply as often as required.
Ingredients
Product Comments & Customer Reviews
" This is really good " SM, Southampton
" I have sensitive skin and find this product really handy, it is very soothing. " SM, Southampton