Lab Nat Dish Washer Cleaner
---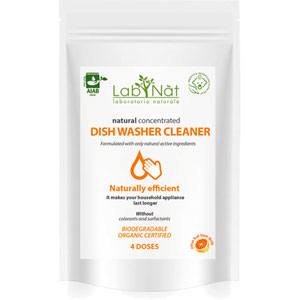 Key Info
Natural, biodegradable powder.
Description
A natural powder to prevent you dishes coming into contact with chemicals. Helps to remove stubborn fat, odours and limescale and an anti-scratch additive protects metal parts and helps extend the life of the dishwasher.
Eliminates odours and keeps drains clean.
Saves on energy consumption.
To Use
Add 24g to the dispenser and use a high temperature wash with the machine empty.
Use once a month
100g provides 4 washes.
---
Product Comments & Customer Reviews
Lab Nat - Dish Washer Cleaner
" Still love using the new dishwasher and washing machine powders. Great to be able to use natural products and they are so effective. " JG, Snodland