Lavera Anti Ageing Sensitive Sun Cream for Face SPF30
---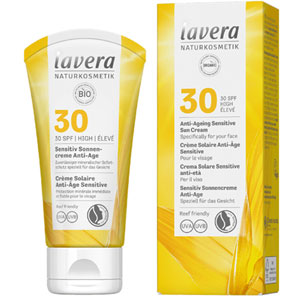 Lavera
Anti Ageing Sensitive Sun Cream for Face SPF30
50ml tube
£19.95
Add to Basket
Catalog ref: LA-534
Key Info
UVA/UVB Mineral Protection.
Reef Friendly.
Description
Keep your skin naturally protected from the harmful UVA and UVB rays with this Anti-Ageing Sensitive Sun Cream SPF30. Naturally and effectively protects your facial skin from the sun, the combination of natural mineral sun filters and organic moisturising ingredients of Organic Sunflower Oil which is rich in Vitamin E, along with Organic Coconut Oil to keep skin moisturised and help prevent sun related skin ageing.
The light textured formula with mineral sun protection of zinc oxide and titanium dioxide, which is specifically developed for the face, helps prevent sun-related wrinkles, pigment spots and hyperpigmentaion as well as sun related allergies and skin irritation.
Developed for sensitive skin and gives instant protection due to the natural mineral sun filters, so you don't have to wait to enjoy the sun.
Benefits
Suitable for sensitive skin
Easy to spread
Pleasant fragrance
Effective immediately
Gives visible protection
Natural mineral based sun protection factors
Moisturising
High Protection
Skin feels silky soft.
Non Nano ingredients
Water resistant
Provides 1:3 ratio of UVA to UVB protection as recommended by the European Commission
Non Greasy
Certified Organic by NaTrue
Includes
Soya Bean Oil
Shea Butter
Macademia Oil
Sunflower Oil
Mango Extract
Peach Oil
Papaya Extract
Free From
Paraben, petrochemicals, mineral oil, colourants, silicones.
To Use
Apply a generous amount of Anti Ageing Sensitive Sun Cream SPF30 to your skin before sun exposure and re-apply regularly especially when sweating, and after spending time in the water.
Ingredients
Cautions
Keep babies and young children out of direct sunlight
Do not expose children under 6 months to direct sunlight
Wear protective clothing
Use sunscreen with a high protection factor
Avoid midday sun