Lavera Sensitive Sun Spray SPF30
---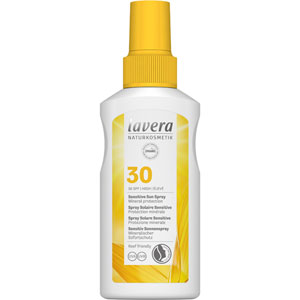 Key Info
UVA/UVB Mineral Protection.
Reef Friendly.
Description
Discover the lavera secret behind naturally effective, skin-friendly sun care. Gives instant protection due to the non nano natural mineral sun filters which protects your skin from UVA skin ageing and UVB skin burning sun rays.
The balanced skin-friendly formula packed with organic ingredients is light and easy to apply.
The carefully balanced, natural composition with mineral UV filters, organic sunflower oil and organic coconut oil offers you immediate, reliable protection.
The light, water-resistant formula with mineral sun protection reduces the risk of sun-related skin irritation, sun allergy and Mallorca acne and is suitable for people with neurodermatitis.
Benefits
Suitable for sensitive skin
Easy to spread
Pleasant fragrance
Effective immediately
Gives visible protection
Moisturising
Skin feels silky soft.
Non Nano ingredients
Water resistant
Non Greasy
Provides a 1:3 ratio of UVA protection to UVB protection, as recommended by the European Commission.
Includes
Certified Organic by NaTrue
Pongamia Oil
Soya Bean Oil
Sunflower Oil
Coconut Oil
Mango Extract
Papaya Extract
Olive Oil
Free From
Paraben, petrochemicals, mineral oil, colourants, silicones.
To Use
Shake well before use.
Can be used immediately, no need to wait the 20 minutes. Apply generously to your skin approximately 36g per average adult. Re-apply frequently to maintain protection especially after sweating or swimming.
Repeated application does not give increased UV protection.
Ingredients
Caution
Keep babies and young children out of direct sunlight
Do not expose children under 6 months to direct sunlight
Wear protective clothing
Use sunscreen with a high protection factor
Avoid midday sun
May stain clothing