Gehwol Foot + Shoe Deodorant
---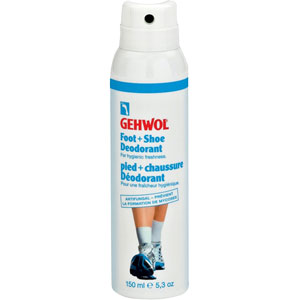 Key Info
For hygienic freshness.
Antifungal
Description
Ideal for sports and on the go. Zinc ricinoleate prevents and removes sweat and odour on the feet and in the shoes.
The pleasant scent provides confidence.
Antimicrobial active ingredients protect against fungal infections in hotel rooms, baths, saunas and when trying on shoes.
Also spray into footwear.
Benefits
- Dermatologically tested.
- Suitable for diabetics.
To Use
Spray onto feet and into shoes as required.
Ingredients