Grahams Natural Natural Conditioner with Coconut & Manuka Honey
---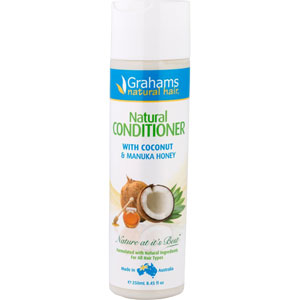 Grahams Natural
Natural Conditioner with Coconut & Manuka Honey
250ml bottle
£14.00
Sorry, out of stock
Catalog ref: GA-008
Key Info
Nature at its best.
Formulated with natural ingredients for all hair types.
Description
Including the finest soothing ingredients of Manuka Honey, Jojoba and Wheatgerm oil for those who suffer from sensitive and eczema prone scalps to make sure your scalp is hydrated and free from irritation.
Free from unnecessary chemical ingredients which not only strip vital nutrients and oils from hair, but can build up over time leaving your hair looking lacklustre.
This naturally fragranced conditioner uses the most up to date natural ingredients to make sure they are safe for sensitive skin types.
Grahams Natural conditioner penetrates deep into the hair shaft and will leave your hair healthy and looking its best!
With a natural Coconut fragrance.
Includes
Manuka Honey
The hero ingredient! Manuka honey is renown worldwide for its antibacterial properties, and an essential part of the formulation and very beneficial for those who suffer from scalp issues. It contains high levels of antioxidants which help to repair the scalp and allow new hair growth.
Jojoba Seed Oil:
A powerful oil extract from the jojoba plant and it is wonderful because its chemical structure resembles the oil that is produced by our scalps naturally. It contains many essential fatty acids, powerful antioxidants and vitamins that moisturise the hair without leaving any residues.
Coconut Oil:
It smells delicious and has naturally occurring antibacterial, antifungal, and moisturizing properties. We love it in our Shampoo as it leaves your hair feeling nourished and smooth.
Olive Leaf Extract:
Not an ingredient you would associate to be used in everyday skincare but the benefits of this century old extract out way the cons. Used in hair treatments for more than 4,000 years due to its amazing smoothing, shine-enhancing qualities, and protection from the elements.
Wheatgerm Oil:
Is a very nutrient-rich plant-derived oil that contains a variety healthful substances including long chain fatty acids. Contains high levels of vitamin E.
Chamomile flower extract:
From the Chamomile plant is beneficial for preventing dandruff and soothing an itching scalp.
Panthenol
Better known as Provitamin B5 and most effective for adding strength to the hair along with lustre and moisturisation!
Free From
Parabens, silicones, petrochemicals, colourants.
Ingredients