Elegant Touch Six Way Shape & Shine Block
---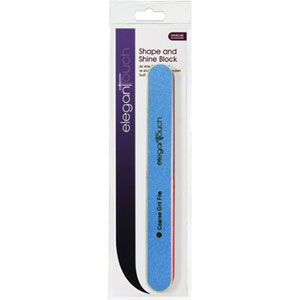 Key Info
File, smooth, buff & shine
Description
This six way Shape and Shine Block has three sides to shape your nails and three sides to smooth ridges and polish your nails.
To Use
1- Shape using the blue, yellow and purple sides. Always file in one direction from the side to the centre, never backwards and forwards as this can damage and weaken the nails.
2- Smooth ridges using the pink side.
3- Finish off by smoothing and shining using the green and finally the grey side.
Do not use excesively as this can damage the nails.