Elegant Touch Crystal Glass File
---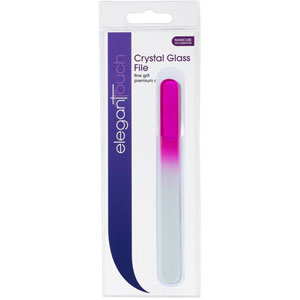 Elegant Touch
Crystal Glass File
£6.15 was £6.95 (save 12%)
Add to Basket
Catalog ref: EG-3168
Key Info
Fine grit.
Premium quality.
Description
Crystal Glass File is made from durable and ultra long-lasting, tempered crystal glass.
With fine grit on both sides this is very gentle on natural and artificial nails.With regular use it can prevent splitting or peeling and will give a lovely smooth finish.
Crystal Glass File is extremely hygienic; its surface is not porous meaning it cannot absorb water that can create an environment for bacteria.
Crystal Glass nail files can also be disinfected by simply rinsing with hot water.
To Use
Always file in one direction from the side to the centre of the nail using long, smooth strokes.
Never file backwards and forwards as this can damage your nails.
Excessive filing can weaken nails.