Dead Sea Spa Magik Mild Exfoliant
---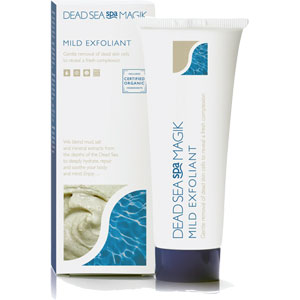 Key Info
Gentle removal of dead skin cells to reveal a fresh complexion.
Description
A gentle and easy to use exfoliant that removes dead skin cells to clear and revitalise the complexion, whilst brightening and invigorating the skin.
Exfoliating the skin will help prevent and combat spots and blackheads.
Dead Sea minerals deeply hydrate the skin, leaving it feeling silky smooth.
An effective yet mild exfoliant with a creamy texture to deep cleanse and remove impurities, leaving silky-soft, smooth skin.
Includes naturally cleansing Kaolin and Dead Sea Salt.
Includes
Roobios
Naturally caffeine free, rich in anti-oxidants. The anti-oxidants present in rooibos may help protect against free radical damage. Roobios tea contains the largest amount of polyphenols (antioxidants) of any other tea.
Linden Blossom
Known for its anti-inflammatory and protective properties. Among extracted components there is quercetin, a flavonoid well-known as an excellent free radical scavenger. Linden Blossom is especially beneficial on problematic skin, especially that which is oily and greasy. It harmonises the skin's surface, calming imbalances.
Matricaria Flower
An anti-inflammatory and anti-irritant, with a soothing action on the skin, to reduce puffiness and cleanse pores of impurities. Matricaria is also an antiseptic and stimulates cell activity within the skin.
Lemon Balm Leaf
Anti-oxidative and anti-inflammatory, helping combat skin irritations by calming and soothing the skin.
Free From
Parabens
Benefits
Gently eliminates dead skin cells.
Promotes youthful appearance.
Leaves skin soft and supple.
Brightens complexion.
Combats blackheads and spots.
Clears and revitalises the skin.
To Use
Apply to face and neck using light circular movements (avoiding eye area).
Remove with a damp sponge or face cloth.
Ingredients
---
Product Comments & Customer Reviews
" I have in the past had Dead Sea Spa gentle exfoliator which I found good for my eczema prone skin. " LAI, Wellington