Dr.Organic Organic Aloe Vera Wet Wipes
---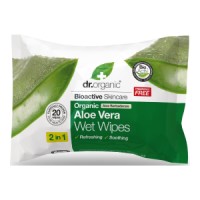 Dr.Organic
Organic Aloe Vera Wet Wipes
pack of 20
£1.49 was £2.99 (save 50%)
Add to Basket
Catalog ref: DG-110
Key Info
Bioactive skincare.
Organic.
Fragrance free.
2 in 1.
Description
Softening and refreshing natural wet wipes based on Aloe Vera, containing a unique gentle cleansing formula ideal for removing dirt and impurities from the skin.
These wet wipes gently cleanse, soothe and refresh skin at the same time as leaving it feeling smooth, replenished and clean.
Dr.Organic wet wipes are conveniently packed so you can take the wonderful benefits of Aloe Vera everywhere you go.
Benefits
- Refreshing.
- Soothing.
- Suitable for Vegans.
To Use
Use wipe to refresh and cleanse without water. Simply wipe over your skin for instant freshness, then re-seal the pack when you're done.
Ingredients