Dr. Bronner's 18-in-1 Hemp Baby Unscented Pure-Castile Soap
---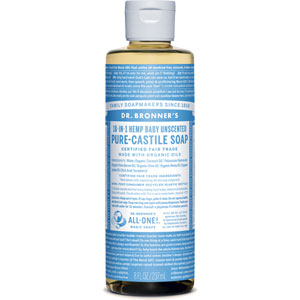 Dr. Bronner's
18-in-1 Hemp Baby Unscented Pure-Castile Soap
237ml bottle
£7.69
Sorry, out of stock
Catalog ref: DB-787
Key Info
Dr. Bronner's Magic Soaps.
Made with organic oils.
Certified fair trade.
No detergents.
No foaming agents.
Description
One of humanity's oldest and simplest products, soap is made by saponifying oils with alkali, with no waste generated. The alkali is either sodium (for bars) or postassium (for liquids) hydroxide, made by running electricity through salt water. No alkali remains in our superb soaps. All glycerin is retained. Our unique old world formula = high lather cleansing and smooth, mild after-feel.
Dilute: enjoy 1 soap for 18 different uses! Guaranteed no synthetic oils & 100% vegetarian. Super mild castile soap has outstanding water softening & cleansing powers. Preferable to harsh soap & defattening synthetics. It does not cut dirt, but dissolves it. It is the mildest, most pleasant soap you have ever used.
Formulation
Organic Coconut Oil, organic Olive Oil, organic Hemp Seed Oil and organic Jojoba Oil.
To Use
Concentrated. Apply on a body mop or sponge or just dilute a few drops in the bath water.
Clouds when cold. Put in a warm room / water to clear cloudiness.
Body Rub
Enjoy only 2 cosmetics, enough sleep & Dr. Bronner's 'Magic Soap' to clean body-mind-soul-spirit instantly uniting One! All-One! Absolute cleanliness is Godliness!
For facial packs, scalp & soothing body rub, add a dash on bath towel in sink of hot water. Wring out. Lay over face & scalp. Massage with fingertips. Repeat 3 or 4 times 'til arms, legs & all are rubbed, always towards the heart. Rinse towel in plain hot water and massage again. Breathe deeply! Health is Wealth. Within 9 minutes you feel fresh and clean, saving 90% of your hot water & soap, ready to help teach the whole Human race the Moral ABC or All-One or None! All-One! All-One! All-One!
Other Info
100% post-consumer recycled plastic bottle. Certified under the USDA National Organic Program. 100% biodegradeable. Made in the U.S.A. Over 150 years & 5 generations of soap excellence.
Ingredients
---
Product Comments & Customer Reviews
" I'm so pleased to find the Dr Bronner travel size in your range and in time for my trip to Berlin on 6th June.Thanks for that! " MM, Oldham