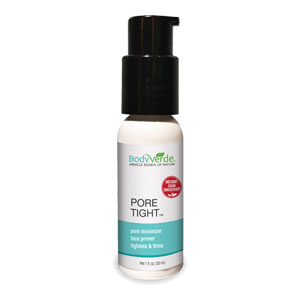 Key Info
NOW TWICE THE SIZE! SAME PRICE!
Pore minimiser & primer.
Tightens & firms.
Description
Pore Tight helps reduce large pores, tighten skin and acts as a primer for a flawless face.
Dries to a matt finish, creating a smooth canvas that can beautifully stand alone or be ready for foundation.
The ingredients are carefully selected to firm, tone and prime skin. Super berry fruit and marine plant extracts combine with grapeseed oil and vitamin E for a complete pore makeover.
Pore Tight has a luxurious cream base and absorbs quickly to help make pores invisible.
Matte finish helps control shiny oily skin all day.
Pore Tight can be used alone or under make-up.
Benefits
Minimizes large pores.
Tightens,Tones and Primes skin.
Firms pores with Acai, Goji, Pomegranate & Noni extracts along with Sea Plant extracts.
Primes skin for perfect canvas with visibly smoother skin.
Includes
Acai Fruit Extract
Goji Extract
Pomegranate Extract
Coconut Oil
Grape Seed Oil
Cranberry Extract
Sugar Cane
Green Tea Extract
Free From
All natural
Paraben and Preservative Free
No sulfates
Animal Testing.
Packaged in airless pump to keep ingredients fresh and away from air.
To Use
Must prime pump, extracting all air inside, to dispense creme.
Apply to clean, dry skin before regular moisturizer.
Pore Tight can be used alone or under make-up. Use twice a day, morning and evening.
Ingredients
---
Product Comments & Customer Reviews
" This is very good. Really impressed. " CD, Towcester
" Absolutely brilliant product, especially under your foundation or moisturiser. " DV, Winchester