Bodytox Night Time - Calming Sleep Support
---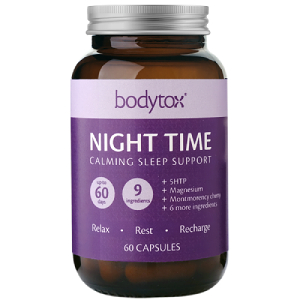 Bodytox
Night Time - Calming Sleep Support
60 caps
£14.35 was £17.99 (save 20%)
Add to Basket
Catalog ref: BT-200
Description
Bodytox Night Time Calming Sleep Support provides a powerful, specific blend of nine vitamins, minerals, botanicals which has been expertly formulated by nutritionists to help mellow your mood and with keeping you calm for you to enjoy a restful night's sleep.
Scientifically Advanced Neuro Night uses 5-HTP & Cherries as a source of melatonin, that helps contribute to the body's natural sleep cycles and circadian rhythms.
Magnesium play a supportive role in deep, restorative sleep by maintaining healthy levels of GABA ( neurotransmitter) that promotes sleep. B6 in its "active" and readily usable form (as Pyridoxal-5-phosphate) contributes to the normal functioning of the nervous system and psychological function, helps to support Melatonin biosynthesis, and reduce tiredness & fatigue.
Chamomile & Hops, together with stress and hormonal balancing Reishi Mushroom & Schisandra extract, help to promote calm and relaxation and a soothing transition to restful nights sleep.
Nutritional Information
Serving size per capsule
Griffonia Seed (from 8:1 Extract) of which: 400 mg -
5HTP 50 mg -
Aquamin (Marine Magnesium 33%) 110 mg % EC NRV - 29.37%
Schisandra Chinensis 100 mg
Chamomile (from 4:1 extract) 70 mg -
Reishi Mushroom (from 15:1 extract) 50 mg -
Hops (from 4:1 extract) 50 mg -
B6 (as pyridoxal-5-phosphate) 2.8 mg % EC NRV - 200%
Montmorency Cherry (50:1 extract) 1000mg
Zinc Methionine 5mg % EC NRV 50%
Free From
No allergens or preservatives.
To Use
Each bottle provides you with 60 Vegetarian Capsules (30 – 60 supply). 1 capsule taken after evening meal (on full stomach). May take up to 2 capsules if required. Take with water or cold drink, not to be chewed.
It is recommended to take Neuro Night 5-HTP+ for 1-2 weeks to begin seeing the full effects. Take two capsules only if required, after experiencing Neuro Night 5-HTP+ effects with taking one capsule over a one to two-week period.
Continue to take for up to 3 months, take a break for a month and continue to take if required. Repeat this cycle for best results.
Ingredients
---
Product Comments & Customer Reviews
" Sleep Tablets - I am ordering more as they seem to work " JM, Richmond