Alteya Organics Organic Rose Jasmine Hand Cream - Moisture Dew (Large)
---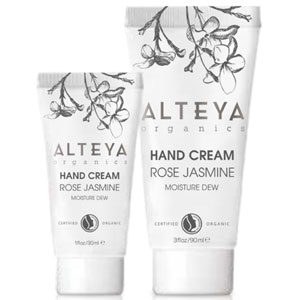 Alteya Organics
Organic Rose Jasmine Hand Cream - Moisture Dew (Large)
90g tube
£6.95 was £8.70 (save 20%)
Add to Basket
Catalog ref: BD-058
Description
This organic hand cream has a lightweight formula that provides intense hydration and long-lasting softness. Enriched with soothing rose water and sweet Jasmine extract, this fragrant flower treat helps nourish, soften and protect hands.
Alteya Organics Rose Jasmine Hand Cream helps to lock-in moisture and strengthen skin`s natural barrier for a dewy, radiant complexion.
To Use
Apply generously on hands and massage to help absorb. Use as often as needed.
Ingredients