Australian Tea Tree Purifying Tea Tree Deep Cleansing Shampoo
---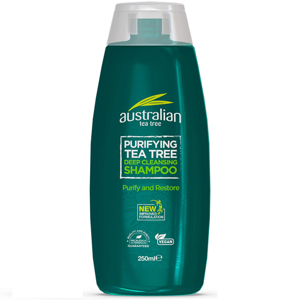 Australian Tea Tree
Purifying Tea Tree Deep Cleansing Shampoo
250ml bottle
£5.59 was £6.99 (save 20%)
Add to Basket
Key Info
Purify & Restore
100% organic tea tree.
Vegan
Description
Utilises the cleansing and antiseptic properties of Tea Tree oil in an invigorating hair treatment.
This Deep Cleansing Shampoo helps to keep the hair healthy, strong and shiny whilst nourishing and moisturising the scalp.
Includes
Organic Tea Tree oil
Free From
Paraben, SLS, Synthetic Fragrances. Dermatologically tested.
To Use
Massage into wet hair and scalp, lather and rinse thoroughly.
Related Products
For optimum results use Australian Purifying Tea Tree Refreshing Conditioner.
Ingredients
---
Product Comments & Customer Reviews
Australian Tea Tree - Purifying Tea Tree Deep Cleansing Shampoo
" Excellent product at a very good price. Thank You! " E.S., Kent
" Wonderful products, that really work! " MH, Trowbridge
" Shampoo is excellent makes my scalp and hair feel clean and healthy. " I.B., Nottingham
" Marvellous shampoo that leaves the hair very clean and shiny. " M.M., Nottingham