Asquith & Somerset Poached Pear Soap
---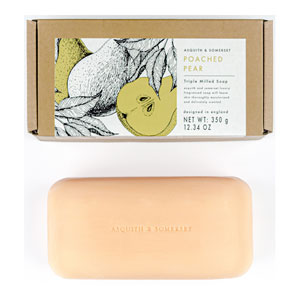 Asquith & Somerset
Poached Pear Soap
350g bar
£4.95 was £9.95 (save 50%)
Add to Basket
Catalog ref: AQ-183
Key Info
Discover the sweet smell of autumnal spiced pears, a perfect balance between fruity and rich.
Description
This Asquith & Somerset Poached Pear Soap is full of sweet spiced fragrance. Packaged into a beautiful box and triple milled to ensure long lasting fragrance and a robust bar.
Packaging
The outer packaging is cardboard so can be commonly recycled after use.
To Use
Remove the wrapper and place the bar of soap under warm water, using your hands to create a rich lather. Rinse and dry hands and repeat as necessary.