Allergenics Hair Mild & Gentle Shampoo
---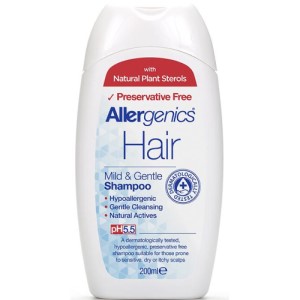 Allergenics
Hair Mild & Gentle Shampoo
200ml bottle
£5.99 was £8.99 (save 33%)
Add to Basket
Catalog ref: AL-1061
Key Info
With natural phytosterols.
Preservative free emollient.
Hypo allergenic.
100% natural origin.
Dermatologically tested.
Description
A dermatologically proven, preservative free cleanser suitable for those prone to dry, itchy skin conditions such as Eczema and Dermititis.
Allergenics Gentle Medicated Shampoo has been formulated after extensive research and dermatological studies in the field of allergies. It is a highly effective cleansing treatment, particularly suitable for those with easily irritated, sensitive scalps prone to eczema and dermatititis.
Excessive use of soap and detergent removes the natural hydrating factor on the surface of the scalp, resulting in poorly hydrated dry skin. Allergenics Gentle Medicated Shampoo has a gentle cleansing action free from harsh detergents and does not damage the scalps delicate cellular structure.
Contects
100% natural origin, 100% preservative free and 100% soap free.
The contents of Allergenics have been carefully chosen from only naturally sourced hypo allergenic ingredients, producing a unique Gentle Medicated Shampoo free from preservatives and harsh cleansing agents which are amongst the principal causes of allergic reaction to regular hair cleansing products.
More Information
Allergenics Gentle Medicated Shampoo provides antiflare-up and protective action against external irritants, due to the inclusion of functional ingredients such as Phytosterols, Borage Oil, Aloe Vera and Allantoin.
The highly effective action of Coconut Oil extract and amino acids combined with Vitamin E provides a perfectly balanced shampoo which nourishes and strengthens the hair whilst protecting against external irritants... naturally.
Benefits
Hypo Allergenic.¬Dermatologically tested.¬Allergy Tested.¬Microbiologically Tested.
Includes
Soothing Aloe Vera¬Protective Vitamin E¬Moisturising Plant Oils
To Use
Apply the shampoo to wet hair and rinse well with luke warm water or as recommended by your healthcare practioner. Repeat if necessary.
Ingredients
---
Product Comments & Customer Reviews
Allergenics - Hair Mild & Gentle Shampoo
" I don't know what I'd do without the Allergenics shampoo and moisturiser. ** " VP, Cheadle Cheshire
" Shampoo really helped my husband -no longer itchy scalp " TL, Burgess Hill
" Very good product. It has stopped my husband from having an itchy scalp. ** " TL, Burgess Hill
" 'Allergenics' shampoo and body wash very effective, so am re-ordering. " KH, Shrewsbury