Arkopharma Royal Jelly Organic 1500mg
---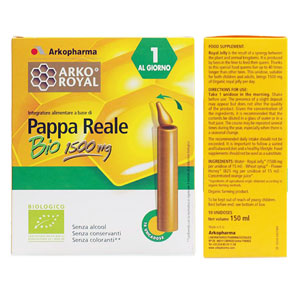 Arkopharma
Royal Jelly Organic 1500mg
10 servings
£17.95
Add to Basket
Catalog ref: AK-94
Key Info
10 unidoses - 1 per day.
Bio Organic.
Alcohol, preservative & colouring free.
Description
As well as a general health tonic Royal Jelly is reputedly beneficial for fighting the effects of aging, and for boosting the immune system.

Presented in handy single dose phials. Take one phial in the morning with breakfast and dilute in a glass of water or fruit juice.
About Royal Jelly
Dubbed the heavenly remedy, royal jelly is the results of a miraculous alchemy between the vegetable and animal kingdoms. It is produced by bees in the hive to feed the queen, hence its name. This food enables her to live 40 times longer than other bees.
Free From
Alcohol
Colorants
Preservatives
Benefits
Royal jelly has 22 amino acids, vitamins B and C plus trace elements. However a percentage has defied analysis and there is no synthetic equivalent to royal jelly. It is this that contributes to the overall benefits of the royal jelly.
To Use
Take 1 unidose in the morning.
Shake before use. The presence of a slight deposit may appear but does not alter the quality of the product.
Can be taken either pure or diluted in a glass of fruit juice.
The course may be repeated several times during the year, notably when the seasons change.
Since the product is a natural one, a slight deposit may appear, therefore the unidose should preferably be shaken before use.
Food supplements: Do not exceed the recommended daily dose.
Food supplements must not be used as a substitute for a varied diet.
Ingredients
---
Product Comments & Customer Reviews
" The Royal Jelly is worth the price. " RG, West Kilbride