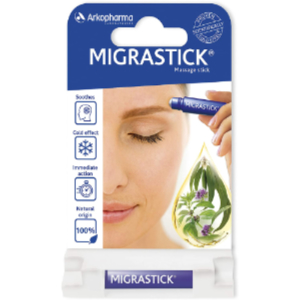 Key Info
Relieves pain caused by migraines and headaches.
Medical device.
Massage effect.
Cool sensation.
100% pure and natual essential oils.
Indications
Massage effect and cool sensation obtained using Migrastick relieves pain caused by headaches and migranes.
Includes
100% pure and natural essential oils of Mint and Eucalyptus.
To Use
Apply using circular massage movements on temples, forehead and nape of neck.
Ingredients
Precautions
Should not be used by children under twelve, pregnant or lactating women and epileptics. Avoid contact with eyes, mucus membranes and broken skin. Do not use in case of allergy to one of the components. Avoid exposure to the sun after applying this product.
---
Product Comments & Customer Reviews
" I can thoroughly recommend the Migrastick for most kinds of headache. I have really cut down on paracetamol and prescribed migraine drugs with sleepy side effects. " MW, Llandyful
" Thank you for continuing to stock this product; I would be lost without it! " AH, Peterborough
" I have ordered this product before - it is very effective. It has helped cut my reliance on Pain Killers. " M.W., Rochdale.
" Migrastick - Quite miraculous. Has reduced my intake of medication enormously. Wish I had discovered it years ago. Am spreading the good news. " M.B., Angus
" Migrastick is migraine miracle in a tube. You simply roll on the blend of Peppermint and Lavender essential oils and it seems that the instant cooling sensation and soothing massage effect really help and take the pain away. " BLOG, Just Because I Love
" Migrastick seems to be very benefical when I feel a migraine starting. " S.R. MARKET, Rasen
" Migrastick is an excellent alternative to headache tablets, as it really does work and relieves painfull migraine in no time. " H.R., Cleveland
" Migrastick - Quickly relieves headaches and when used at night induces peaceful sleep. I recommend it to all migraine sufferers. " J.H., Rochester
" I have ordered this product before - it is very effective. It has helped cut my reliance on pain killers. " MW, Rochdale
" My friend let me have some Migrastick and it worked wonders, great.... " IR, Bristol