Earth Secrets Reed Diffuser - Lavender
---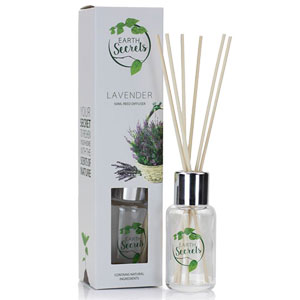 Earth Secrets
Reed Diffuser - Lavender
50ml bottle + reeds
£6.99
Add to Basket
Catalog ref: AB-ES03
Key Info
Natural fragrance with rattan reeds.
Presented in an attractive gift box.
Contains natural ingredients.
About
A decorative way to fragrance your home without smoke or flame. Once inserted into the bottle, the reeds slowly draw up the aromatic fragrance, gradually releasing the scent into the surrounding room.
Description
Earth Secrets are beautifully packaged mini glass bottle reed diffusers containing natural ingredients that have been specially formulated to give an extra fragrance burst to your home.
So sit back and relax whilst the fragrance is absorbed through the rattan sticks, and evaporates across the room, leaving you with the pleasant aroma you desire!
You can vary the amount of sticks used in order to vary the strength of the aroma.
The mini size make it ideal for placing on narrow windowsills, mantelpiece, by your work station or anywhere space is limited.
Floral And Herbal Fragrances
GREEN TEA & JASMINE - Sweet, relaxing notes of aromatic green tea combine perfectly with the bright, uplifting floral scent of fresh jasmine.
LAVENDER - The natural, calming scent of lavender is gently combined with hints of tea tree and eucalyptus. Delicate notes of violet and frangipani sweeten the fragrance to create a wonderfully relaxing scent.
VANILLA - A sweet, creamy vanilla accord characterised by tonka bean, sweet musks and powdery vanilla, enriched with fresh lavender and lavandin oils.
PARMA VIOLET - Delightful iris dances with the nostalgic, sweet notes of violet and lavender.
RASPBERRY - Soft rose buds blend with smooth vanilla, enlivened with sweet raspberries. Touches of geranium and jasmine add sparkle to this vibrant fragrance.
JASMINE & BERGAMOT - Powerful, heady floral dominated by notes of jasmine with nuances of orangeflower, ylang and plumeria.
WISTERIA - Distinctive wisteria and hyacinth blend with ylang ylang. Comforting sandalwood nestles with heliotrope at the base, adding an air of sweetness.
POPPY & PINK ORCHID - A delicate blend of pink orchid and bright poppy, enveloped in a layer of sweet vanilla, white mallow and musk.
DAISY & DAFFODIL - Alive with the heady, floral scent of narcissus and sweet clover, this dainty bouquet is finished with a creamy dash of vanilla.
New COTTON MIST - A fresh and airy scent of clean cotton, blended with calming hints of violet leaf on a delicate base of white musk.
Citrus And Spicy Fragrances
ROSE & LILY - A charmingly mysterious blend of orange and bergamot together with delicate hint of ginger, and the floral aromas of rose, jasmine and lily.
ANTIQUE AMBER - Indulgent notes of treasured amber and creamy vanilla, combine to form a velvety base. Whilst, aromatic galbanum and lavender blend into the heart of this fragrance with sultry leather notes.
SEA MINERALS - The mineral scent of the sea fills the air as waves crash against the shore, creating a mist of sea spray and the coastal tang of sea salt. A scent that's truly good for the soul.
LIME - Bright hints of creamy white flowers blended with delicate musk are uplifted by gentle notes of aromatic tea leaves and sparkling lime bursting with freshness.
New SANDALWOOD - A warm, woody fragrance of rich sandalwood and earthy patchouli complemented by sparkling notes of bergamot and black pepper.
Contents
Elegantly decorated 50ml glass bottle of natural fragrance with a silver top. 8 natural reeds.
Presented in a smart gift box.
---
Product Comments & Customer Reviews
" Delighted with this product bought in a shop in Cornwall. " JM, Broadstone
" This is one of the nicest diffusers I have had. Sandalwood is one of my favourite fragrances. Well done!! " WH, Birmingham
" The product is a set of beautifully packaged mini glass reed diffuser which contains all natural ingredients and a pack of 8 natural rattan reeds. This one is perfect for smaller spaces according to me. Overall, I love this reed diffuser. " BLOG, DB REviews
" My friend - for which it was a present - is absolutely delighted - the perfume is so soothing. " R, Nottingham
" Replacing something about juniper berries that was sitting on the shelf behind the loo is my new Earth Secrets Reed Diffuser in Green Tea & Jasmine (£6.50). What a little cracker this is. Perfect for bathrooms where you don't want to leave a candle unattended, this gives a great subtle background scent. Some reed diffusers don't really give out much fragrance but I notice this lovely fresh smell every time I go in the bathroom. " BLOG, Style Nest
" earth secrets reed diffuser winter rose is just lovely " AN, Kilmarnock