Aromas Artesanales de Antigua Aromas Artesanalas De Antigua Hand Cream Collection
---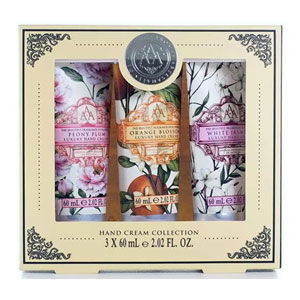 Aromas Artesanales de Antigua
Aromas Artesanalas De Antigua Hand Cream Collection
1 x gift box
£11.90 was £12.50 (save 5%)
Add to Basket
Catalog ref: AA-277
Description
This beautiful hand cream gift set contains an assortment of three luxury hand creams (3 x 60ml) from our Aromas Artesanales de Antigua Floral collection, including Orange Blossom, White Jasmine & Peony plum.
Fragrance
Peony Plum: Peony plum has an indulgent herbaceous, floral scent with hints of patchouli and cedarwood. Discover all of the floral fragrances within our AAA body care here.
Orange Blossom: Wonderfully aromatic and sweet, yet fresh and enticing, orange blossom is a beautiful name for a beautiful fragrance. Bring sunshine to your day with the sweet scent of orange blossom.
White Jasmine: Fine scented white jasmine, floral notes including hyacinth and lily, and green spring-like undertones give this fragrance a rich freshness. A classic floral fragrance to encourage memories of sunshine-filled mornings.
Packaging
In line with our sustainability goals, the design of the AAA mini hand cream outer packaging has been updated. We have removed the acetate film and plastic vac tray inside, and replaced with condensed card version which can be easily recycled.
Ingredients