Moisturising Lotion
by Hope's Relief
Everyday moisturiser for skins prone to eczema, dermatitis & psoriasis.
Helps soothe & hydrate dry, itchy skin.
Suitable for face & body.
Ideal for both babies & adults.
Description
A new breakthrough formula with mango butter which gives intense all over moisturising for dry, flaky sensitive skins to help repair the skins natural barrier.
Nourishes the dry outer skin plus also penetrates deep to restore flexibility and regenerate new skin cells. Formulated with eight proven moisturisers that lock moisture in the skin keeping it soft and supple.
Ideal to use alongside Hope's Relief original Dry Skin Rescue cream, to give all over body hydration for eczema prone and dry skin.
Includes
Mango Butter - Restores flexibility and prevents drying of the skin.¬ Shea Butter - a natural form of Vitamins A and E.¬ Olive Butter - reduces skin irritations and leaves dry skin feeling soft, smooth and firm. Also very rich in antioxidants and vitamins.¬ Gotu Cola - assists in moisturising.¬ Calendula - soothes and calms.¬ Grapeseed - with benefits similar to Vitamins E and C.
Free From
100% natural.¬No Petro-Chemicals
Benefits
Non irritating to skins with eczema, psoriasis and dermatitis.¬ Helps renew cells, hydrate and restore skin health.¬ Enriched with Mango, Shea and Olive butters.¬ Keeps skin soft and supple and improves skin texture for a healthy glow.¬ Soothes and protects skin.¬ Helps ease the itch and heal skin.¬ Can be safely used on babies, children and adults for extended periods.
To Use
Apply liberally and frequently 2-3 times a day.¬Continual and prolonged use will increase effectiveness and results.
About Mango Butter
Mango Butter is crammed with skin-loving nutrients and one of nature's best kept secrets!
Essential fatty acids restore lipid levels in dry and sensitive skin to hydrate, soften and smooth. Skin cells are repaired and regenerated, restoring skin elasticity and plumpness. The fatty acids provide a protective barrier to keep moisture in and irritants out.
Natural Retinol - stimulates collagen and elastin production for skin repair.
Powerful antioxidants called polyphenols protect and repair skin from environmental damage.
Non irritant to sensitive skin.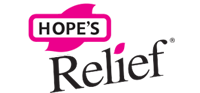 Hope's Relief Cream.
Natural moisturising cream for itchy, dry skin.