Wild Yam Skin Cream
by Napiers
| | |
| --- | --- |
| Size: | 60ml glass jar |
| Ref: | NP-458 |
| Price: | Sold Out |
Sorry, this product is no longer available.
With Calendula & Vitamin E.
Perfect for the needs of today's woman.
To comfort and soothe imbalances.
Description
This moisturising cream is enriched with highly nourishing extracts and oils specifically for their moisturising, balancing and harmonising effects on the female system.
Natural phyto-oestrogens found in both Marigold and Wild Yam are absorbed into the skin with the cream base and may help to relieve some symptoms of menopause. A skin cream specifically designed for menopausal and post menopausal women who want the additional support of herbs for balance and well being. Menopause is not a medical condition, but a natural phase in a woman's life and herbs have been used for centuries to support them.
This also makes an exceptionally good face cream for very thin, dry, mature skin too!
Includes
Cocoa Butter¬Olive Fruit Oil¬Flax Seed Oil¬Shea Butter¬Calendula Extract¬ Wild Yam Extract¬Aloe Vera
Free From
Parabens¬Petrochemicals¬Artificial Colour¬Fragrance Made in the UK.
Benefits
To rebalance mature skin that has become dry, papery and lacking in moisture in the post-menopause years.
To Use
As a face cream: Apply as a normal face cream on dry areas at morning and at night.
As a body cream: Apply two to three times a day but keep applying consistently, once started.¬Rub into soft skin areas (inner thighs, inner arms, stomach, under breasts) and alternate the area applied to.
Comments & Customer Reviews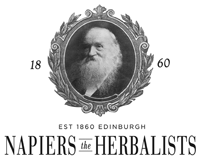 Napiers
Herbal health care.
Caring for you since 1860.
Napiers are a leading force in complementary and natural health care and are dedicated to providing the best of health and wellbeing through the use of herbal and natural therapies.