Hand Made Natural Soaps Set
by Faith In Nature
100g bars of Lavender, Aloe Vera & Orange.
Description
An ideal gift and the perfect opportunity to try some of these popular hand made bar soaps.
The beautiful gift pack contains three of popular fragrant bar soaps, and are all pure vegetable soaps – no artificial colours, fragrances, or preservatives.
Set Includes
Lavender Soap - Lavender always bring a sense of calm to every day, and this magnificently fragrant pure soap made with organic lavandin will do just that.
Aloe Vera Soap - Organic aloe vera is blended with aromatherapy oils of ylang ylang and patchouli to create this soothing pure soap.
Orange Soap - Made with orange oil known for its refreshing and cleansing qualities, and a firm favourite.
Free From
SLS/SLES¬Petrochemicals¬Artificial Colour¬Artificial Fragrance
Comments & Customer Reviews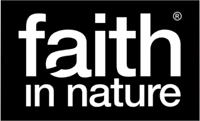 Faith in Nature
Award winning natural beauty product range.
Naturally Sourced ingredients.
No artificial colours or perfumes.
No parabens or SLS/SLES.
Made in the UK.
The business was founded by Rivka Rose over thirty years ago, with a clear mission to produce skin and hair care products from naturally derived sources, that had no synthetic additives and which damaged neither the user nor the environment. This is as true today as it was then.