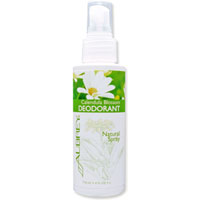 Calendula Blossom Natural Deodorant Spray
Aubrey Organics | more info....
YO-083 | 118ml spray bottle | Sold Out
118ml spray bottle
Sold Out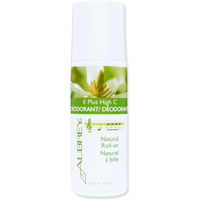 E Plus High C Deodorant Roll-On
Aubrey Organics | more info....
YO-082 | 89ml roll-on | Sold Out
89ml roll-on
Sold Out
include discontinued items

Aubrey Organics
Pure. Natural. Handcrafted.
Aubrey Organics make beauty products with honesty and integrity, using the finest natural and organic ingredients – without compromise.
Pure. They source the finest and purest natural ingredients from all over the world. They require vendors to complete an affidavit declaring the contents and processing information. This screening process helps ensure that there is little to no risk of contamination from GMOs, sulfates, silicone, PVP or other plastic derivatives, parabens and phthalates.
Natural. - Products that are certified organic or natural by such agencies as the USDA, NSF and NPA.
Handcrafted - All products are made in small batches of 50 gallons or less to guarantee freshness. The formulas are created and packaged in a certified Tampa manufacturing plant, which has been certified as an organic processor by Quality Assurance International since 1994.
Free From
No sulfates
No silicones
No PVP or other plastic derivatives
No mineral oil
No parabens
No phthalates
No artificial colors or thickeners
NO synthetic fragrances. Only natural fragrances derived from essential oils or essential oil isolates.
Cruelty-free products. Aubrey Organics have never tested on animals or accepted animal testing data as proof of an ingredient's safety or effectiveness
Environmentally responsible products. The contents of all Aubrey products are completely biodegradable. They use recyclable and recycled materials in as much of the packaging as possible.