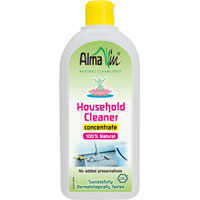 Household Cleaner Concentrate
AlmaWin | more info....
WI-500 | 500ml bottle | Sold Out
500ml bottle
Sold Out
include discontinued items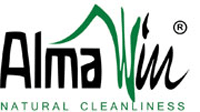 AlmaWin
Natural & Organic Household Cleaning Products
Paraben Free, Petrochemical Free & are made from natural ingredients.
The Alma Win range which uses only the gentlest organic and natural ingredients to provide effective cleaning and washing results.
Alma Win has organic certification, having been certified by EcoGarantie.
No parabens, petrochemicals, phosphates, synthetic ingredients, borium and silicone are used in the range. Instead, it's totally based on plant ingredients produced from organic farming.
Ecogarantie
EcoGarantie have strict rules about what processes can and cannot be used; for example, animal testing is forbidden, making Alma Win a great choice for ethically minded people.
In fact, all Alma Win products are guaranteed suitable for vegans.
Dermatologically Tested
Every household cleaning product in the EU that potentially touches the skin must be "Dermatologically Tested" Alma Win products are tested on a cross section of 50 people with different skin types at concentrations that would be expected when cleaning, as there is no reaction amongst any of the volunteers Alma Win can confidently say that their products are Successfully Dermatologically Tested!