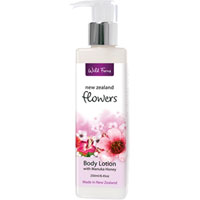 Flowers Body Lotion
Wild Ferns New Zealand Flowers | more info....
WF-FBL | 240ml pump bottle | Sold Out
240ml pump bottle
Sold Out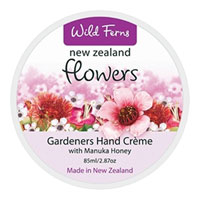 Flowers Gardeners Hand Crème
Wild Ferns New Zealand Flowers | more info....
WF-FHC | 85ml jar | Sold Out
85ml jar
Sold Out
include discontinued items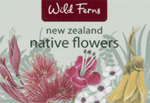 Wild Ferns New Zealand Flowers
Luxurious products featuring the delicious fragrance of flowers found only in New Zealand.
Includes Manuka, Pohutukawa, Kowhai, Flax and Puriri.
They combine a gorgeous fragrance with extracts from the plants themselves, and these all feature unique properties to assist in the health and wellbeing of your skin.
As with all Wild Ferns products, the Flowers collection is free from parabens and mineral oil to ensure a more natural, gentle product.
About Native Flowers
The five flowers in the blend are only found in New Zealand.
Manuka
A small tree which grows throughout New Zealand. The delicate white and pink flowers can cover the tree such that it appears to have snowed. Various parts of the manuka tree have been used in traditional medicine for hundreds of years treating ailments such as head colds, inflammation, and rheumatic joints. It was also given as a sedative to a person in pain or to promote sleep. It has antibacterial, antifungal, anti-inflammatory, anti-acne, anti-wrinkle, astringent and healing properties.
Pohutukawa
Also known as the New Zealand Christmas tree due to the abundance of striking red flowers that bloom in December. It has astringent and antiseptic properties.
Harakeke
Also know as New Zealand flax. The leaves are used traditionally by Maori for weaving mats, clothing, bags and bowls and different parts of the plant are used as an external treatment for wounds, burns, toothache and eczema, while others act as a disinfectant for wounds. It contains effective antibacterial, anti-inflammatory, anti-acne, skin softening and healing properties.
Kowhai
The drooping bright yellow flower of the Kowhai tree is also one of the more easily recognised native flowers in New Zealand. All parts of the kowhai tree can be used in traditional medicine, from treating cuts, bruises and swelling to assisting in healing colds, sore throats and skin infections.
Puriri
One of the few native trees in New Zealand with large colourful flowers and is similar in appearance to the snapdragon flowers. Used in traditional medicine to treat ulcers, sore throats and for bathing sore muscles, backache and sprains.