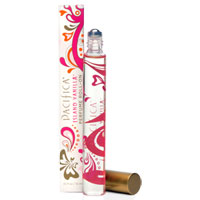 Island Vanilla Roll-On Perfume
Pacifica | more info....
PF-3145 | 10ml roller-ball | £ 13.00 | Out of Stock
10ml roller-ball
£ 13.00 | Out of Stock
include discontinued items

Island Vanilla
Sultry vanilla absolute, with honey-jasmine, a touch of fruitiness and tea.
Pacifica use a natural grain alchohol as the base for their spray and roll-on perfumes. The soild perfume is made from a coconut and soy based wax.
They develop all of the scents using the highest quality ingredients including essential and natural oils from all over the world to create Pacifica's proprietary perfume blends.
Inspiration
Inspired by the unique magic of Tahitian vanilla, this sensual blend sets sweet and sultry vanilla absolute, with honey-jasmine notes and a touch of fruitiness, against a deep and beautiful base of tea.
Free From
All Pacifica products are gluten-free, 100% vegan, and cruelty-free.
Products are formulated without phthalates, parabens, sulfates, propylene glycol, benzene, mineral oil, petroleum, peanut oil, triclosan, and other ingredients you do not want on your skin.