include discontinued items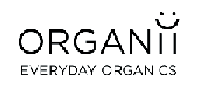 Organii
Natural and Organic Products certified by ECOCERT, ICEA and GOTS.
Nickel Tested.
Vegan.
Organii's mission is to offer the consumer good value products with high integrity.
Products are sourced from similarly minded, ethical manufacturers who share the passion for all things natural and organic.
Organii products must meet selected criteria including; effective formulas, value for money, products suitable for the whole family while looking good in any bathroom.
They also need to be certified natural and organic with conscientious packaging.