include discontinued items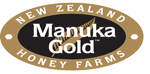 Manuka Gold
A range of soothing products containing Manuka Honey which is laboratory tested and guaranteed to contain a UMF level of 10+. This is combined with Propolis, the ingredient produced by bees to repair their hives.
This natural blend helps to soothe sore irritated throats, minor throat infections and ticklish coughs.
About Umf
UMF, stands for Unique Manuka Factor. This is the measurement system used to gage the antibacterial strength of the honey. The higher the UMF level, the higher the antibacterial activity. Manuka Honey with a UMF level of 10+ is recommended for therapeutic use.
Not suitable during pregnancy or lactation or for children under 3 years.