include discontinued items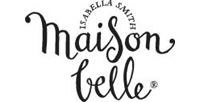 Maison Belle.
Natural Cleaning Products.
Created by Isabella Smith Apothecary.
Incredibly efficient, natural, biodegradable household cleansers. Scented only with special blends of Essential Oils to leave a wonderfully fresh, natural fragrance all around your home.
Safe around children and pets and presented in 100% recyclable plastic bottles.
Free from Phosphates, Bleach and Ammonia.