Natural Bathroom Cleaning Duo
Isabella Smith | more info....
IS-BCD | 2 x 500ml bottles | Sold Out
2 x 500ml bottles
Sold Out
include discontinued items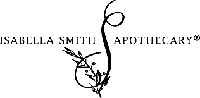 Isabella Smith Apothecary.
Biodegradable cleaning products
Isabella Smith Apothecary is a Danish company devoted to creating and marketing biodegradable cleaning products and toiletries that are safe both for the environment and the people who use them.
Additional Information
In spring 2005, they introduced a range of biodegradable cleaning products: Maison Belle.
The range is made from natural ingredients whenever possible and fragranced with fresh-smelling essential oils.
Bottled in recyclable PET bottles, Maison Belle products meet the stringent UK HSE standards for non-toxic household cleaners. So you won't find any orange hazard symbols on the bottles! And just as importantly, the products are incredibly effective when it comes to doing what they were created to do – that is, cleaning.