include discontinued items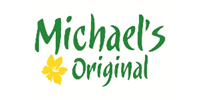 Michael's Original
Natural luffas grown in the Philippines.
Grown without chemicals.
100% Biodegradable.
Fairly Traded and hand-made on the family farm.
Durable, animal friendly and vegan.
They work!
Who Founded Michaels
Ben and Nancy are the founders and owners of Michael's Originals. Nancy is from the Philippines and came to live in the UK when she was a child. Ben is British and trained as a chef, briefly overlapping with Jamie Oliver when he was starting out at The River Cafe. After over 20 years of working in catering, he wanted a change of direction.
Whilst visiting Nancy's family in the Philippines, he noticed how they used luffas as washing-up scourers. In fact luffas are grown as a vegetable and it is only when they go to seed that they become the tough items we are familiar with.
They brought some luffas back with them after their visit, and sold them as washing-up pads in Brighton on the Sunday market. They sold well and so Ben and Nancy left for the Philippines for their new life as farmers.
The products are named after their son, Michael.