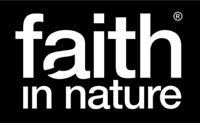 Brave Botanicals
Natural Shampoo & Conditioner.
Building on over 40 years of expertise, they have carefully crafted a brand new range of Shampoos and Conditioners, showcasing their finest and most adventurous blends.
Believing in nature and the power of plants, Faith In Nature have chosen nature's ingredients not only for their delicious fragrances but for their healing qualities and powerful benefits.
The plants that Faith In Nature use in their products smell wonderful, but that's not the only reason they use them. They have an unwavering belief in their power, and each one has been chosen for its healing qualities – resulting in products that work just as nature intended.
Forty Years Of Faith
Faith in Nature have been putting faith into their products for forty years now. When they started, nobody was talking about 'green' cosmetics. It wasn't fashionable, and it wasn't mainstream. But now times are changing, and slowly the world is coming round to this way of thinking.