include discontinued items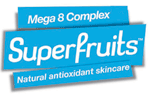 Freeman Superfruits
Mega 8 complex.
Natural antioxidant skincare.
Superfruits provides antioxidant rich skincare to help combat the effects of stress, the environment and your fun, not-so healthy lifestyle.
Powered by Mega 8 Complex which combines eight of the most powerful superfruits: Goji, Acai, Pomegranate, Mango Mangosteen, Cranberry, Noni and Blueberry to help purify, detoxify and soothe stressed skin.