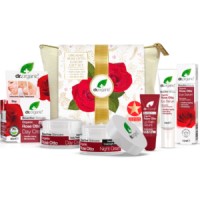 New

Organic Rose Otto Luxury Gift Bag
Dr.Organic | more info....
DG-643 | bag of 4 | £ 35.45 | Out of Stock
bag of 4
£ 35.45 | Out of Stock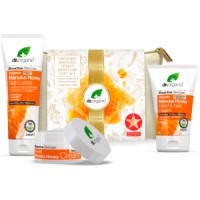 New

Organic Manuka Honey Moisture Gift Set
Dr.Organic | more info....
DG-646 | bag of 3 | £ 24.25 | Out of Stock
bag of 3
£ 24.25 | Out of Stock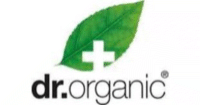 Dr Organics
Bioactive Skincare.
A unique range of multi award-winning, organically enhanced health and beauty products.
Dr Organic source the best that nature has to offer and always include in every cosmetic product organic ingredients from around the world that are accredited by leading organic certification bodies.
They always strive to use a minimum of 70% organically grown ingredients in the products excluding water, salt and minerals wherever possible.
They also replace as much of the water in products as they can with organic Aloe vera juice.
All products are suitable for Vegetarians and the majority are also suitable for Vegans.
Free From
Parabens, Sodium lauryl sulphate (SLS), Synthetic colours, Mineral oil, DEA, BHT or Isothiazolinones.
GMO Free
Products do not contain palm oil but may contain palm oil derivatives as an alternative to synthetic ingredients. They actively use suppliers who are certified under the RSPO sustainable palm oil system.