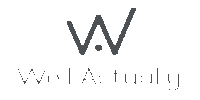 Well. Actually
Live a Vibrant Life. Enjoy Quality Nutrition for Less.
Vegan & vegetarian friendly
Free From – preservatives, alcohol, soy, gluten, artificial colours or sweeteners
Eco-Conscious Packaging Choices
When Well.Actually. products are created, they are formulated with - and for - our families in mind.
Made to the highest quality standards, Well.Actually products are produced within a British laboratory and production facility with GMP and BRCGS global food safety standards accreditation.
Well.Actually. ensures that each vitamin, mineral or nutrient must be efficiently absorbed and utilised to deliver the most optimum effect, meeting a variety of nutritional needs. But equally important to us, is that no matter what your budget is, Well.Actually. products are accessible to everyone who wants to get the best out of life…which always starts with good health.
Additional
Well. Actually are bold in their ideals, rooted to their cause, and defined by their integrity and ability to deliver on commitments.
Well.Actually. is not just another supplement brand. There was not one purpose 'to make a great nutrition'. There were several:
1. Formulate quality nutrition which was highly bio-available
2. Sold at the lowest possible price without compromise to quality
3. Adopt eco-conscious packaging solutions which reduce plastic waste
Well.Actually. focuses to reduce packaging waste and minimise plastic use, delivering a measured reduction to the impact on our environment.
We therefore choose to use:
Pouches to reduce plastic packaging and eliminate the use of boxes.
Glass which is 100% recyclable and the most widely recycled material in the UK, and which does not deteriorate the more times it is recycled.
Biodegradable labels & non plastic packaging tape, filler, and protection to safely transport our products. They are 100% recyclable and wherever possible, we use recycled materials.