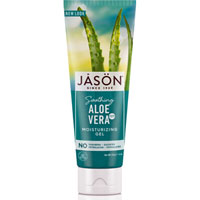 include discontinued items
Aloe Vera Range
Pure, Natural & Organic.
Established 1959.
JĀSÖN has grown in to a leading brand for people who look after themselves and their families from head to toe the natural way.
The JĀSÖN brand is devoted to using only ingredients from the rich source of goodness that is earth's garden and its natural resources.
About Aloe Vera
Aloe vera is a powerful moisturiser, which penetrates the skin supplying moisture directly to the tissues. It is renowned for its soothing and calming effect on burns.
Aloe improves skin tone and colour by increasing the blood flow to the areas of application.