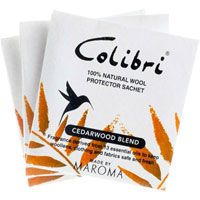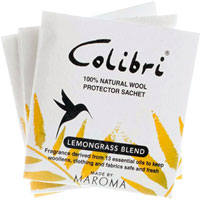 include discontinued items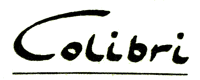 Colibri
Natural anti-insect products.
Non toxic & Cruelty Free.
Packaged in hand made cotton paper.
Choose from Lavender, Lemongrass or Cedarwood.
These wonderful products create a cocoon of natural aromatics which will keep wool and other fabrics in mint condition.
Colibri's natural formula, which was developed by Maroma for use in closets and other storage areas, freshens and preserves with light, clean natural fragrances.

For optimum results the sachets should be used year round and replaced every six months.
The base formula contains essential oils and botanical extracts of eucalyptus, clove, lemongrass, vetiver lavender and cedarwood.
Added Lemongrass or Lavender oils are used to form each of the fragrances we offer.
The products protect clothes against moths and keeps drawers & cupboards smelling fresh and clean.
About
Colibri products are hand made by Maroma in Auroville in India from a range of natural botanical essences. The wisdom behind Colibri is that by observing insects in a natural environment it is possible to find plants which repel them. Colibri is the result of this observation.
These wonderful products repel insects in a completely natural manner while offering a very pleasant alternative to chemical repellants.
The light fresh aroma sends a fragrant message to the most bothersome insects (flies, moths, mosquitoes and fleas) to keep away. They contain no chemical insecticide or toxic ingredients and are absolutely safe.
Company Ethos
Maroma are members of Fair Trade Forum India (FTFI) and follow the Fair Trade policy for all those involved with the company taking care of the cleanliness and safety of the work space to the well being of the workers. 40% of the profits go to the development of the international community of Auroville and its surroundings villages.
Maroma's fragrances conform to the guidelines set by the International Fragrance Association situated in Brussels. The products are completely non-toxic and no tests are carried out on animals.