Orange Mate Concentrate - All Purpose Cleaner
by Ecos - Earth Friendly Products
Grease cutting power, you control the strength.
Plant powered.
Natural Orange.
Great fo hobs & ovens.
Description
All Purpose Cleaner Orange Mate Concentrate is a versatile cleaner and degreaser that is invaluabe in the kitchen and home.
The natural cleaning power of orange oil helps to penetrate and emulsify grease and grime.
Formulated for grease removal and heavier duty cleaning Orange Mate is safe to use on any washable surface e.g. oven doors, hobs, and baking trays. It has a crisp & refreshing orange fragrance.
Safe to use on any washable surface such as: Oven Tops & Hoods, Work Surfaces, Refrigerators, Walls, Tiles, Sinks, Linoleum and Tiled floors.
Includes
Pressed Orange Oil and plant based surfactants.
Free From
Formaldehyde.
Petrochemicals.
GMOs.
Phosphates.
Chlorine.
Ammonia.
SLS.
Cocamide DEA.
Vegan, cruelty free and carbon neutral.
Benefits
WINNER BEST ECO HOUSEHOLD PRODUCT 2012 as voted by readers of Natural Lifestyle Magazine.
100% biodegradable.
pH neutral.
To Use
For degreasing oven, hobs, baking trays- use full strength then rinse.
For large cleaning jobs like floors, tiles or work surfaces, dilute 30:1 in a bucket or bowl with warm water.
You can use All Purpose Cleaner Orange Mate Concentrate to fill any spray bottle. Dilute with water 1:10. Pour 45ml of Orange Mate Concentrate into empty 500ml trigger spray bottle and top up with cold water.
Comments & Customer Reviews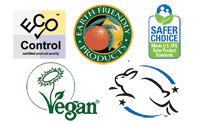 Ecos - Earth Friendly
'One by one we can change the world'.
There's clean, and then there's honest clean.
Earth Friendly Products was founded in 1993 with a simple mission: To provide high quality cleaning products that are absolutely safe for your family, your pets and the environment, made with replenishable ingredients.
In 2017 Earth Friendly Products proudly celebrated 50 years of creating environmentally friendly and sustainable cleaning & laundry products using thoughtfully sourced ingredients which are safer for people, pets and the planet. To mark the occasion, they changed their name to ECOS, the same as their best-selling laundry detergent. The ECOS range offers an effective clean, powered by plants at an affordable price. All products are positively free from formaldehyde & dyes, are readily biodegradable & easily recycled, as well as