Orange Mate Concentrate - All Purpose Cleaner
by Earth Friendly Products
Grease cutting power, you control the strength.
Environmentally friendly plant based cleaning.
Natural Orange.
Description
Formulated to be a truly pure, green and effective surface cleaner.
Orange Mate is a natural orange oil all-purpose cleaner.
This free-rinsing, phosphate-free cleaner penetrates and emulsifies hard-to-remove grease and grime.
Safe to use on any washable surface such as: Oven Tops & Hoods, Work Surfaces, Refrigerators, Walls, Tiles, Sinks, Linoleum and Tiled floors.
Includes
Pressed Orange Oil and plant based surfactants.
Free From
Formaldehyde.
Petrochemicals.
GMOs.
Phosphates.
Chlorine.
Ammonia.
SLS.
Cocamide DEA.
Benefits
WINNER BEST ECO HOUSEHOLD PRODUCT 2012 as voted by readers of Natural Lifestyle Magazine.

100% biodegradable.
pH neutral.
Vegan.
To Use
Cleaning Floors and Large Areas - dilute 1:30 with water.
General Cleaning - dilute 1:10 with water.
Degreasing and Ovens - use full strength then rinse.
Related Products
Earth Friendly Products.
Live Free.
Live Green.
The original earth friendly products since 1989.
Comments & Customer Reviews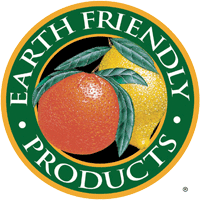 Earth Friendly
'One by one we can change the world'.
There's clean, and then there's honest clean.
Earth Friendly Products was founded in 1993 with a simple mission: To provide high quality cleaning products that are absolutely safe for your family, your pets and the environment, made with replenishable ingredients.
Earth Friendly Products is one of the largest manufacturers worldwide of plant-derived eco cleaning & laundry products.