Migrastick
by Arkopharma
Relieves pain caused by migraines and headaches.
Medical device.
Massage effect.
Cool sensation.
100% pure and natual essential oils.
Indications
Massage effect and cool sensation obtained using Migrastick relieves pain caused by headaches and migranes.
Includes
100% pure and natural essential oils of Mint and Lavender.
To Use
Apply using circular massage movements on temples, forehead and nape of neck.
Precautions
Should not be used by children under twelve, pregnant or lactating women and epileptics. Avoid contact with eyes, mucus membranes and broken skin. Do not use in case of allergy to one of the components. Avoid exposure to the sun after applying this product.
Clinically Approved
An open clinical trial by ARKOPHARMA on the efficacy and tolerance of MIGRASTICK in the treatment of Migraine has been carried out.
21 migraine patients were followed for 2 months. The number of migraine attacks, the length of the migraine attacks, the pain intensity (mild, strong, very strong), the concomitant take of other medicine and the subjective tolerance are recorded.
Results: 91% satisfaction of effectiveness (percentage of patients reporting good or excellent effectiveness). 85.5% satisfaction of tolerability (percentage of patients reporting good or excellent tolerance).
The presence of the mark CE on the product = guarantees the conformity and the safety recognised by all the European Union Member States.
Migrastick is officially recognised as being a class I medical device to relieve the pain associated with headaches and migraines.
Comments & Customer Reviews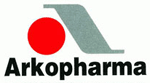 Arkopharma.
The science of health naturally.
A global approach to health and well-being.
Founded in 1980 in Carros, near Nice in France, by Dr. Max Rombi, Arkopharma is a pharmaceutical laboratory specialising in the area of phytotherapy and natural medicine and dietary supplements.
They offer natural medicines for both treatment and prevention.
Arkopharma is faithful to its philosophy as a pharmaceutical laboratory with the greatest respect for nature and fundamental ethical principles.